Issue 10 starts with a stunning piece of art by Peter Carsillo, who told me he'd do a Pulsar cover ages ago should the need arise. So when I reached out, we began to explore concepts. When the idea of a movie poster came up, I mentioned "Infra-Man" probably because I was staring at it while messaging him.
Just from that, Peter crafted a Basil Gogos-inspired movie poster for a Pulsar movie that, sadly I cannot watch. I also want to point out that I will get that movie made or die trying.
My favourite thing about this is the "Pulsar Universe" Peter brought to life here. A bevy of beauties, a fleet of vehicles but also adding the ironic twist that they all are repurposed from other Mattel toylines. That is…Chef's Kiss toy satire, and I love it. There are a couple of other toy easter eggs in there that I will leave for you to find them all. 
SPECIAL LIMITED-TIME OFFER-
If you order Toy-Ventures magazine issue 10 through our shop, you will get a free "Amigos Del Terror" patch while supplies last.
Issue 10 is a milestone for us, and we've packed with a diverse grouping of stories that we'll be doing more in-depth reveals on this coming week.
Finger Puppets:
Robyn Adams joins us for a great piece about Sesame Street Finger Puppets.
Toxic Crusade
Bert from "Ed's Retro Geek Out" shares some history on the Playmates Toxic Crusaders line.
The Hero with Heart (and Lungs)-
Toy Industry insider Greg Autore talks about the Mattel Pulsar toy line and his research at Mattel.
The Deadly Dresses of Kung Fu Man
Vicent Cerbone tells about solving the age-old mystery of who is "Action Jose."
The Terror BEST Friends
Uriel Barros shares his knowledge of the "Amigos Del Terror" toy line and the Argentinian toy trade.
Basement of Horror
Leicester Vintage Toyshop
Mego Planet of the Apes Part 6
Cancellation on the Planet of the Apes!
Bootleg Bionics
We've got the OSI files on all the Knock-Off Steve Austins on those toy shelves.
Super Joe Part 4
Were you in the Super Joe Club? Steve shares the memorabilia and explains how the club has returned.
The Warriors Toybox
They Call Him SLADE: Super Agent
We discuss the groundbreaking company Shindana Toys and their man of action.
TO SUBSCRIBE and BEGIN WITH ISSUE 10 Click Here
Thanks again for all the tremendous support these past two and a half years. Please, tell your friends about us, and tag us in posts whenever you can.
BrAiN
Do you miss reading print toy collector magazines?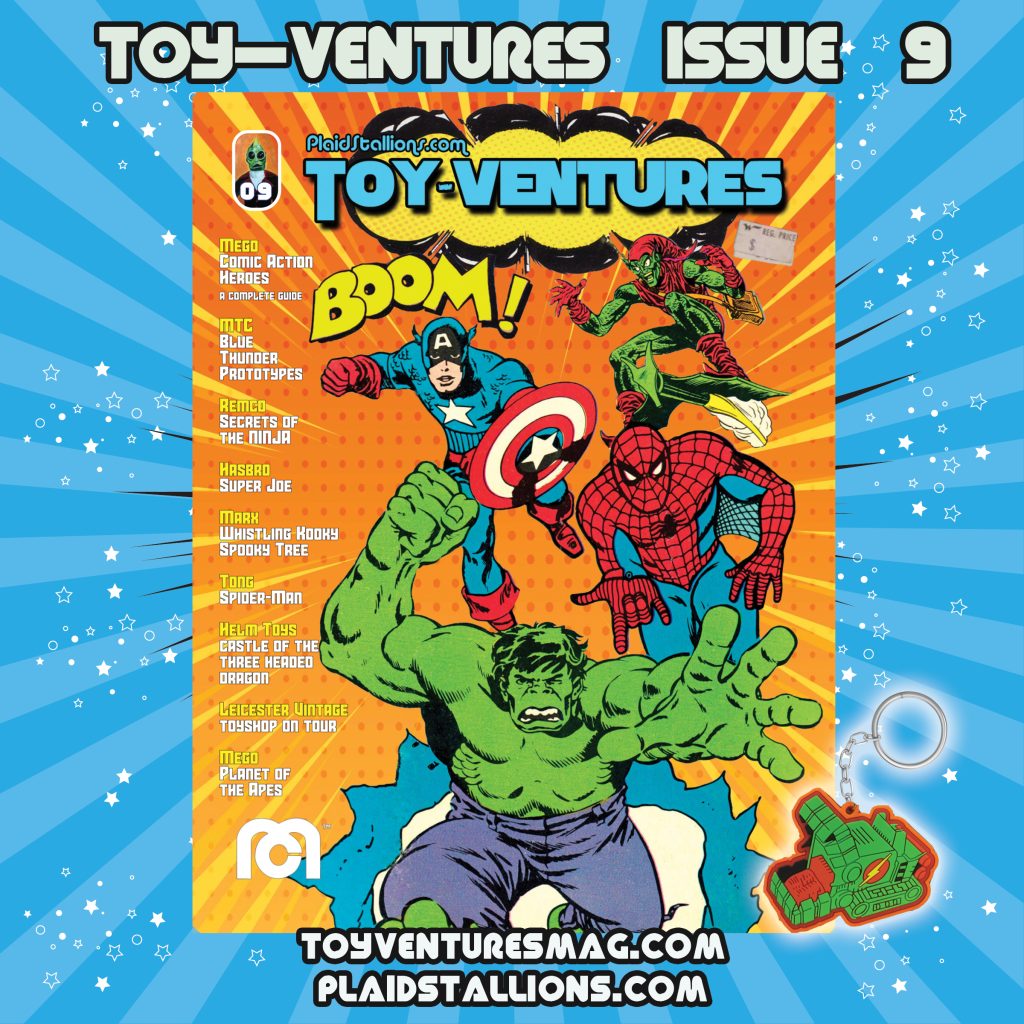 That's why we created Toy-Ventures magazine, an old-school print publication dedicated to vintage toys from the 1960s to the 1990s. Each issue is packed with never before seen images and information written by some of the top collectors. We've got nine issues and climbing; please check our page here or visit our store.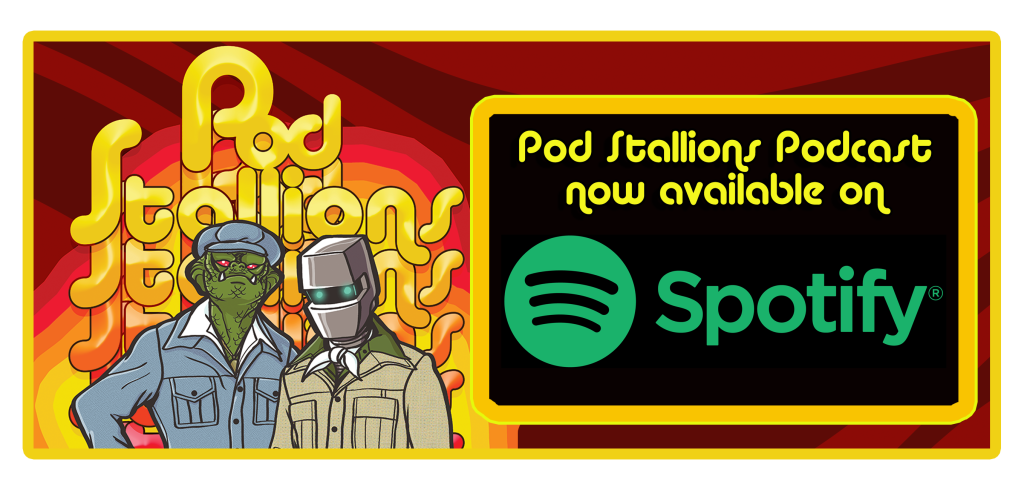 Our long running Pod Cast, Pod Stallions is now available on Spotify.
The PlaidStallions Polyester Pals have arrived and come in green and orange. Be the first kid in the sandbox with our Podcast mascots!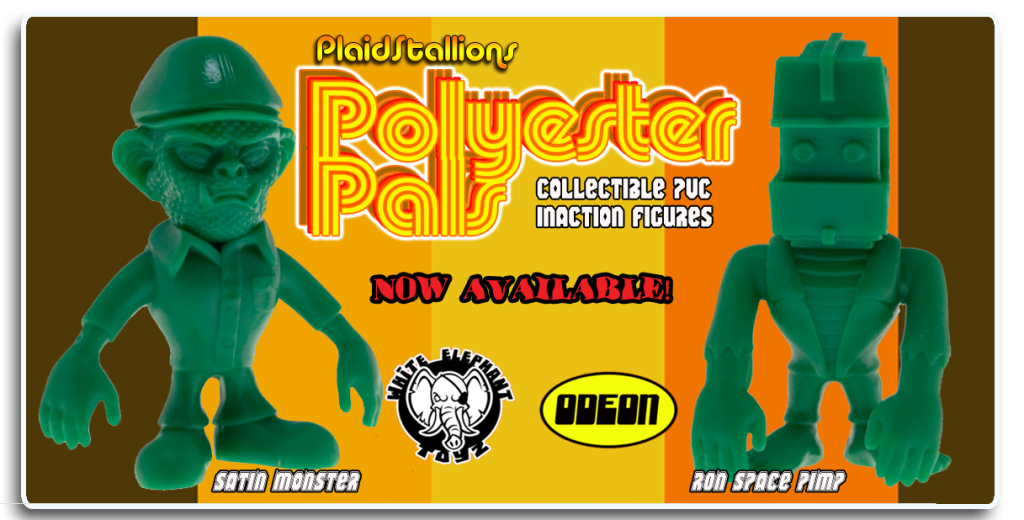 Our latest book is "Knock-Offs: Totally Unauthorized Action Figures" a love letter to cheeky copyright-infringing toys. You can get this new book via the PlaidStallions Shop, On Amazon (Affiliate Link) or eBay (eBay Link)
FACEBOOK GROUPS FROM PLAID STALLIONS

Pod Stallions is based on our podcast and is one of the most fun groups on Facebook. Toys, Comics, Movies, TV, it's all up for grabs, and remember, folks, you keep the glass! If you like our show, then you have found your tribe.

Mego Knock Off Headquarters– The leading group discussing 70s Dime store knock-offs and bootleg action figures, we talk vintage toys and not others. We know the difference between Astro Apes and Action Apeman.  It's a fun group where we talk about Lincoln Monsters, AHI, Mighty Gary, Tomland, Bogi, Demo Man, Mortoys, and other generic greats.
5 Awesome of the Things on eBay this week
toy magazine, toy-ventures magazine, mego, knock-offs, records, ebay list, top ten ebay, best things on eBay,
#Mego #toyventures #toymagazine