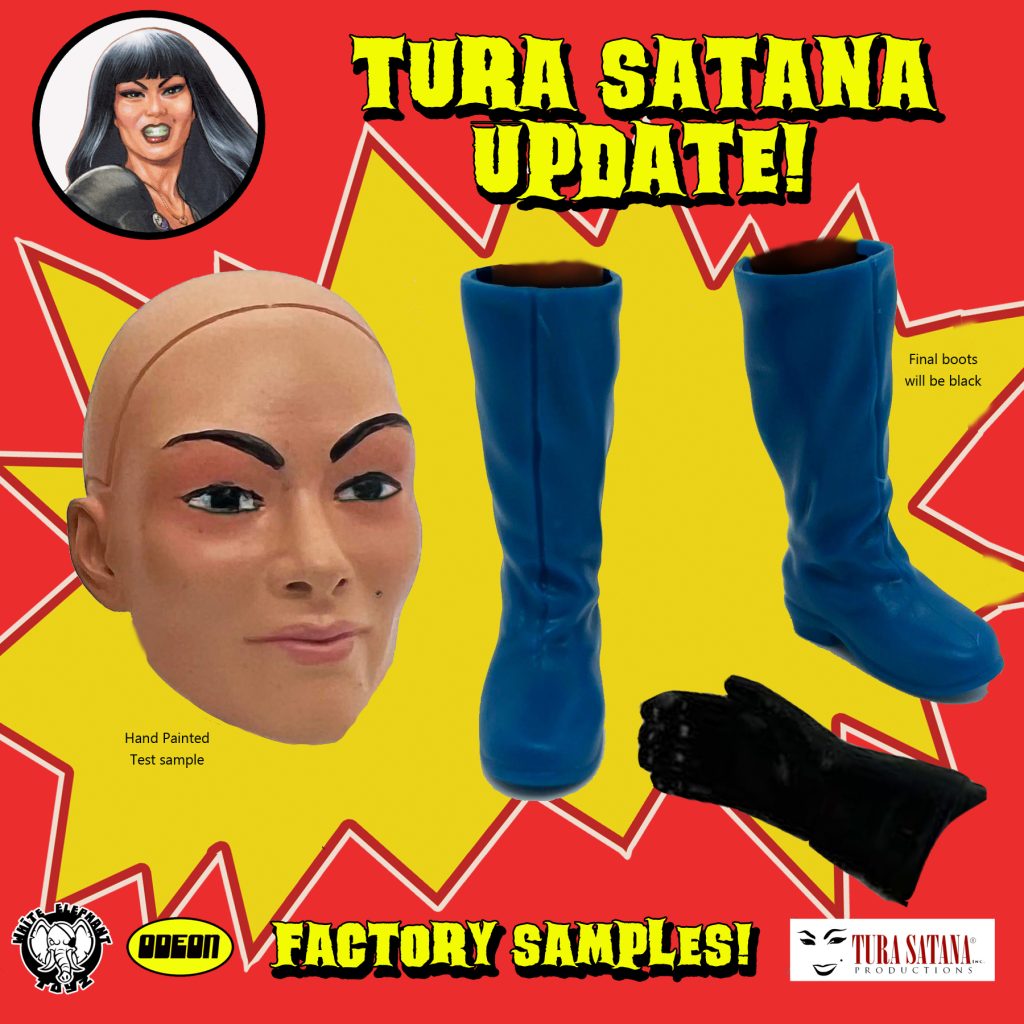 Great news from the factory floor as White Elephant Toyz shared some new images of the "Fresh from the mould" pieces for the upcoming Tura Satana action figure.
The figure's head has come out of the moulding process, looking just like the original sculpt. The figure will also come with custom-sculpted boots (based on Varla's look) and gloves.
The official  action figure is almost here, sign up for our mailing list to get an exclusive art print and early notice when the figure is ready, so you can, as Varla would say, "Go get her!"
The Tura Satana action figure is being co-produced by White Elephant Toyz and PlaidStallions under license from Tura Satana Inc. and will be available in late 2022. This 8″ retro cloth figure will be a limited edition and come in an exclusive solid box with art by Joseph Michael Linsner.
The figure will be available in 2022 at Plaidstallions.com and Whiteelephanttoyz.com websites.
About Tura Satana Inc:
Tura Satana Inc. is the only company authorized to grant official Tura Satana licensing and merchandise,Tura Satana Inc. was formed to ensure the credibility, quality, respect and attention to detail that Tura herself always demanded.
About White Elephant Toyz:
Formed by Jason Schiermeyer, a veteran toy designer and collector. He has helped bring several exciting, licensed properties to Action Figure collections: King Features the Phantom and Flash Gordon as well as a recent very successful kick-starter campaign for Strike Force Alpha.
About PlaidStallions
PlaidStallions is a pop culture and toy website dedicated to the 70s and 80s created by Brian Heiler. The publisher of Toy-Ventures Magazine and the newest book "Knock-Offs: Totally Unauthorized action figures." Under their Odeon Toys division, they have released licensed action figures of Captain Canuck, the Mego Museum Super Collector, and their mascot Brick Mantooth. Plaidstallions.com
I've also made a few other collectible pins based on knockoffs and characters from this website. Look for a few more designs coming very soon.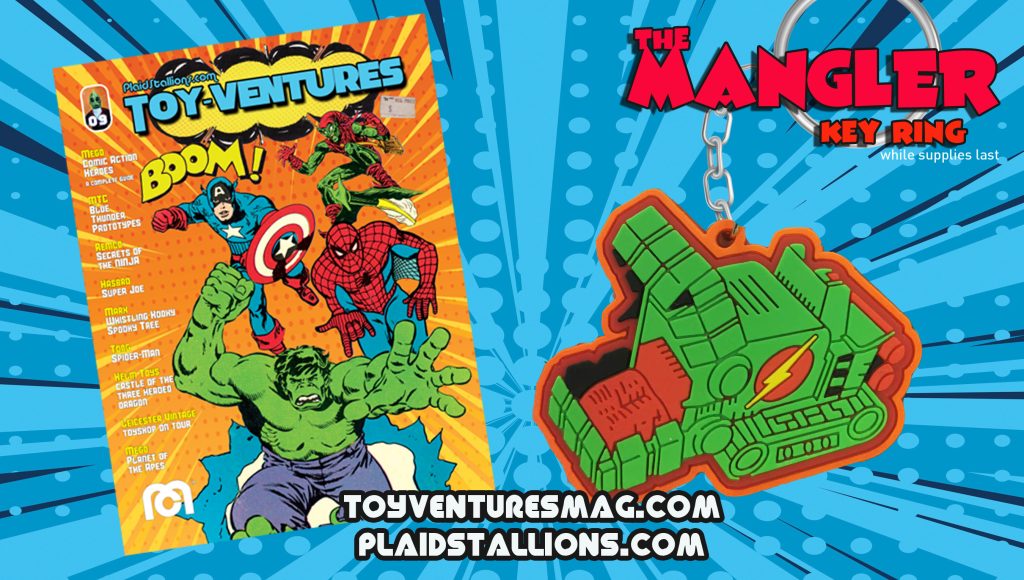 Do you miss toy collector magazines?
That's why we created Toy-Ventures magazine, an old-school print publication dedicated to vintage toys from the 1960s to the 1990s. Each issue is packed with never before seen images and information written by some of the top collectors. We've got nine issues and climbing; please check our page here or visit our store.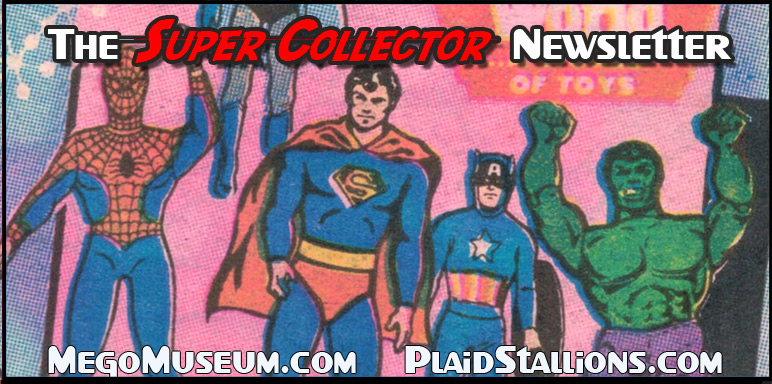 The PlaidStallions Polyester Pals have arrived and come in green and orange. Be the first kid in the sandbox with our Podcast mascots!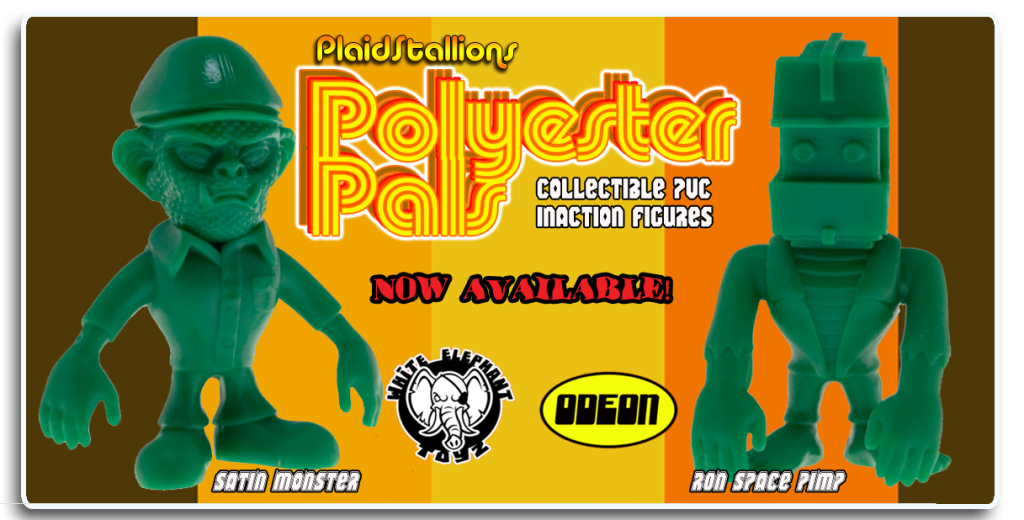 Our latest book is "Knock-Offs: Totally Unauthorized Action Figures" a love letter to cheeky copyright-infringing toys. You can get this new book via the PlaidStallions Shop, On Amazon (Affiliate Link) or eBay (eBay Link)
FACEBOOK GROUPS FROM PLAID STALLIONS

Pod Stallions is based on our podcast and is one of the most fun groups on Facebook. Toys, Comics, Movies, TV, it's all up for grabs, and remember, folks, you keep the glass! If you like our show, then you have found your tribe.

Mego Knock Off Headquarters– The leading group discussing 70s Dime store knock-offs and bootleg action figures, we talk vintage toys and not others. We know the difference between Astro Apes and Action Apeman.  It's a fun group where we talk about Lincoln Monsters, AHI, Mighty Gary, Tomland, Bogi, Demo Man, Mortoys, and other generic greats.